3
mins read
Policymakers, urban planners, economists, and journalists can now have access to high-quality traffic, weather and IoT data thanks to Intelematics new interactive data-visualisation portal. With location and development decisions heavily influenced by transportation, Intelematics' data portal allows for the dynamics between transport and the economy to be better understood.
The new data-portal provides visibility into Intelematics' extensive traffic data, and maps correlations between the mass movement of people and vehicles with specific events such as weather and traffic incidents.
Intelematics' Chief Operations Officer Stephen Owens says the new portal allows for instant access to valuable, accurate data to make informed data-driven decisions about our cities.
"At Intelematics, we capture data through millions of sensors located on roads, in vehicles and infrastructure. In the past, it has been a challenge extracting this data to be used in a meaningful way.
"Our new data portal allows users to quickly see correlations between activities that they previously couldn't – for example, while the relationship between transport and the economy is complex, we can now dive deeper and faster into how people are moving, and use that information to more accurately support economic predictions – particularly those that rely on transport," said Mr Owens.
The new portal has been made possible by Intelematics' recent transition to cloud computing – allowing for more storage and faster processing capabilities than ever before.
Intelematics is launching its new portal at the ITS World Congress in Singapore. Intelematics' Senior Product Manager, John Cardoso, will present on how Intelematics can map the correlation between vehicle movement and economic activity at the Congress on the morning of 21 October. Stephen Owens will also be there presenting on the concept of Mobility as a Service (MaaS) and the increased options for public transport in the sharing economy.
"The relationships between transportation and the economy are very complex, and as a result, have often been poorly understood — for example, how differing modes of transport apply to different stages of an individual's journey and how traffic incidents and congestion influence a journey. By looking deeply into the data and looking at how people are moving, Intelematics can enable data-driven decision making based on movement factors," Mr Owens said.
By mapping out correlations, the new portal will enable new ways of understanding the interconnectedness of society, particularly as more and more devices enter the connected space.
"As more data becomes available through MaaS and connected vehicles, we can provide unique insights beyond the transport sector taking the guesswork out of policy development and urban planning", Mr Owens said.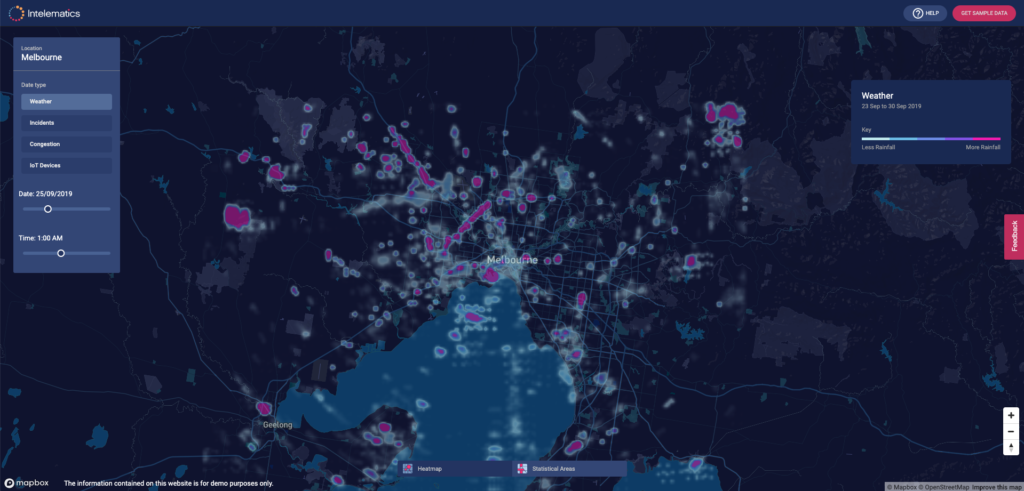 About Intelematics
Intelematics will be exhibiting an interactive data-visualisation portal at ITS World Congress Singapore from 21-25 October that provides context around the mass-movement of people and vehicles. The portal offers a wealth of traffic incident, flow and congestion data, along with the weather and IoT data to enable data-driven decision making. Understanding mass-movement feeds into the future of mobility, it improves efficiency in moving people on a mass scale and in turn, allows for the dynamics between transport and the economy to be better understood. Visit Intelematics at stand #73 to visualise the data, explore your cities and suburbs, and learn how it can be used to make informed data-driven decisions about your city.
Intelematics delivers the intelligence behind connected services to keep people moving. Since its establishment in 1999, Intelematics has continually been at the forefront of the telematics industry with a presence in Australia, North America and Europe. Intelematics' expertise is delivered via a suite of scalable, multi-tenanted solutions.  This includes connected transportation services such as real time insights and predictive services, connected motoring applications on vehicle dashboards and specialist safety and security services.