4
mins read
At Intelematics, we recently launched a self-serve data e-store.
The store provides traffic Flow data for Victoria and New South Wales, for the years 2016, 2017, and 2018 (the rest of Australia and 2019 will be available March 2020).
Being a one of its kind online store selling Australian traffic data is an exciting prospect. On the one hand you have started a trend which will change the way people consume and leverage data. On the other hand, you have a long road ahead informing the market about the advantages of your data and why it's worth the $$$.
For everyone whose job depends on traffic flow data for decision making, we have put together how our data stacks up against the other open data sources out there.
OpenData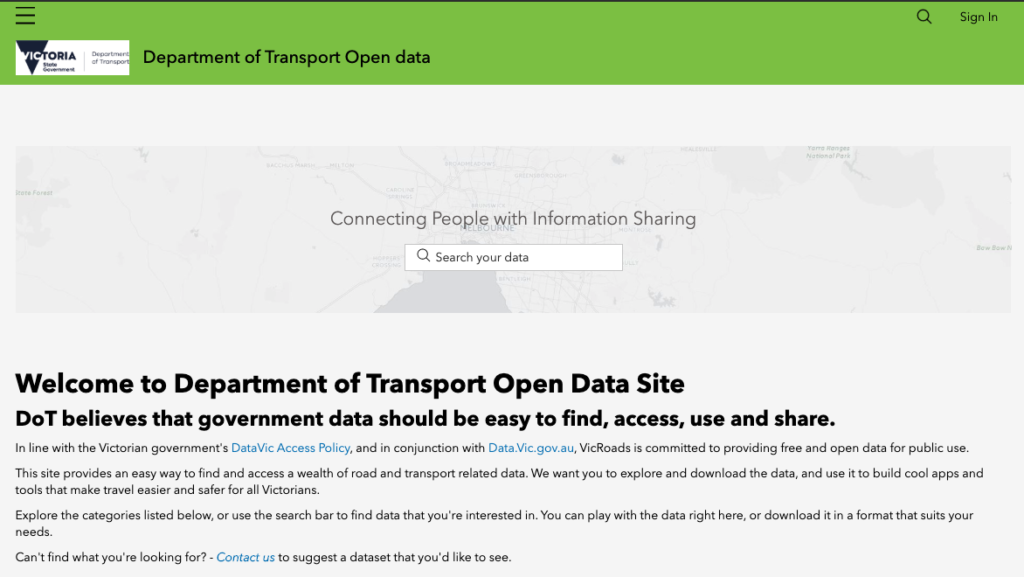 Availability — If you are looking for traffic specific data you can check out the Vic Roads Open Data site — https://vicroadsopendata-vicroadsmaps.opendata.arcgis.com/
Cost — Free
Use case — If it is some high-level exploration you are doing, this quality of data may work for you. If you are looking to dive deep and find more significant insights:
Flow/Congestion data is largely missing from OpenData across all states.
The OpenData on traffic volume is often incomplete and hard to use.
The format you can access this data is important, would you need an expert to help you translate or can you look at the dataset and derive insights easily? If you happen to download the open data file for annual traffic volume; there is no way to know the traffic volumes by month/week/day/hour, which can be critical for your use case.
Uber Movement
Availability — If you are looking for Travel time-related data you can visit https://movement.uber.com/?lang=en-AU and download it
Cost — 3 months of data for free
Use case — This data is useful for those who need data for planning commutes. Not ideal for knowing how many people were in a particular location. Besides,
The traffic flow speed is not available for Melbourne (VIC)
Uber only allows for three months of extract (free+self-serve). For more, You need to contact them and pay.
Their highest data resolution is hourly.
Intelematics Traffic Flow Data
Availability — Self-serve delivery model. You can visit https://www.intelematics.com/insight/traffic-flow
Cost — You can purchase a suburb's data for a year for AUD1980.
Use case — Our data is perfect for people looking for detail and granularity. Also, you don't need to be a data analyst or scientist to use our data.
From our online store, you can select your suburbs and year of interest and proceed directly to the checkout. There were no contracts, no negotiation period, no human intervention. Just click and purchase.
We have all the main roads in Australia covered. And we don't just provide our data users with longitude and latitude information but instead, list every street for a suburb in our dataset so that our users can be sure the roads they're after are covered.
The highest resolution other sources provide is hourly; Intelematics offers every 15min. However, should you require nine-minute, six-minute or three-minute increments – we have that too.
We make our data available in a ready to use format enabling anyone to better understand and harness traffic flow data for feasibility studies, traffic modelling, research, policy development and more in the future.
Many times the free data you refer to when downloaded has gaps and is incomplete, which makes it hard to use. Intelematics data is curated to ensure completeness and quality.
We also enrich the data using proprietary sources. We do have minimal thresholds of data quality that ensure our services are reliable. If one particular source of data doesn't meet our minimum threshold our system automatically calibrates the results to ensure quality. In this way we avoid the data being skewed due to underperformance by any one of our sources.
What it really comes down to is a matter of use case. If you are doing some exploration or high-level analysis, the other data sources may provide you with the kind of insights you are looking for. But if accuracy and reliable results are crucial to your use case, then you want data which is high in quality and resolution, we offer that. For example, If we take into consideration just the Melbourne metropolitan area, none of the other companies provide Flow speed data, for Melbourne (VIC).
Therefore, for those who deal with data or use data for driving critical business decisions know the role quality, accurate data plays in deriving sound insights.