10
mins read
These are unprecedented times we find ourselves in as a result of the COVID-19 outbreak. While many of us had some experience working from home – maybe a day here and a day there – and most of us had some kind of experience working with people in a different location, we were thrust into the deep, end of March when stage three restrictions fell in place. Like many in our situation, it has been a steep learning curve figuring out how to keep the entire business operating remotely on the fly, with little preparation.
At Intelematics, in early March, in preparation for the impending government restrictions, all teams planned to trial a work from home week, to see if our systems and processes would hold up. However, as we prepped to enter our trial period – owing to the fast-evolving COVID-19 situation, the business decided to go remote with its entire operations. Now, it was not just a scenario we were preparing for but the real deal!
My role at Intelematics is as an Iteration Manager – which means I am responsible for bringing our operations teams, our developer teams and our product strategy teams closer together. In many cases, Iteration Managers are considered the glue that holds a team, or teams, together. We work in agile environments and are responsible for developing solutions to remove roadblocks and help organisations to collaborate better.
As you can imagine, when we moved to work remotely – my job took on a whole new meaning, and with it came a set of unique challenges. I knew from the outset I had my work cut out for me to keep our operations, developers and product strategists collaborating while working remotely to continue to deliver innovative solutions for our customers.
One critical factor that worked in our favour when the company decided to operate remotely – was having our infrastructure in the cloud well established.
When working in the regular office environment – to encourage agility and foster collaboration, we had a series of regular meetings in place. These included daily stand-ups, planning sessions, design meetings and more. At Intelematics, Microsoft Teams and Slack were always our day-to-day online communications tools, so the first instinct when going remote was to, just take our in-office collaborative processes, and move it online to these channels.
However, in two weeks it became clear that this wasn't working quite as well as we had hoped – and we found that we had lost a bit of our agility and collaborative spirit, so we needed to make a change. Some of the key challenges we faced as a result of working remote were:
Challenges
Lack of ad hoc collaboration – when you're working in an office environment, there's a lot of incidental interaction with your colleagues. For example, you may be at your desk, and two people near you may be having a conversation about an issue you had resolved for a customer the week prior – so you can turn to them and share your experience. You only knew this conversation was taking place because they were doing it within earshot – which frequently happens in an open office environment. However, when we're working remotely – we found that this incidental interaction and ad hoc collaboration wasn't happening, and that was detrimental to our overall performance.
Lack of structure to team meetings – we found that by moving meetings to Microsoft Teams that we lacked the natural flow that comes with communicating in person. When you're in the same room with someone, you can pick up on slight gestures, and body language – and better read the room to run a well-structured meeting. When we moved online, we found that this was missing in big group meetings and that people were talking on top of each other. It was hard to know who had something to say and on what topic, which led to jumping back and forth and covering the same ground multiple times, resulting in inefficient meetings.
Lack of social interaction – we found in the early stages of working remotely, that a lot of the communication that was happening was transactional, and missing some of the social niceties that make being in an office environment enjoyable. We didn't experience our usual lunch breaks – an opportunity to go into the kitchen and chat with people we don't usually work closely with. We also couldn't have incidental social chats with people, like stopping someone in the hallway to talk about their weekend. We noticed that this lack of human, more social interaction, was starting to impact engagement with the team.
Lack of knowledge sharing – we noticed that a critical knowledge sharing tool when we're in the office – design meetings – weren't having the same impact when working remotely. Usually, when someone is seeking to learn more about a design function, they will go and speak to an expert – and invite anyone around them who is interested in the topic of discussion to go along. By moving these meetings online, we found that these design meetings had reduced from big groups to one-on-one meetings – and as a result, we were missing out on a lot of valuable knowledge sharing between teams.
Solutions
So, how did we fix these challenges? After the first two weeks of working remotely – we set up a smaller working group to come together, reflect on what had been working, what hadn't been working, and discuss changes we could implement to improve collaboration, and our overall performance. When talking about the changes we could make, it was important that we came up with solutions as a cohesive group that can be implemented quickly and worked for us and our wider teams.
We agreed on a series of actions we could take, and tools that we could make better use of, to improve the collaborative experience for our teams while they work from home. The actions we landed on have already had a huge positive impact and has led to us collaborating better, and in some instances being even more productive than when we were while working in the traditional office environment.
I thought it would be valuable to share the measures we implemented so you too can learn from our successes:
Introduced fun ways to bring structure to team meetings
To address the challenge of people speaking over the top of each other, and our meetings lacking 'flow' and efficiency – we've started to make use of a couple of great online tools. The first of these is called Random.org which is a simple online tool that allows you to type any number of names into a list, and then it will automatically assign a number to those names – up to the number of names you've typed in. You can then use this to decide in what order people will speak in a meeting. We share our screens when we do this so everyone can play along.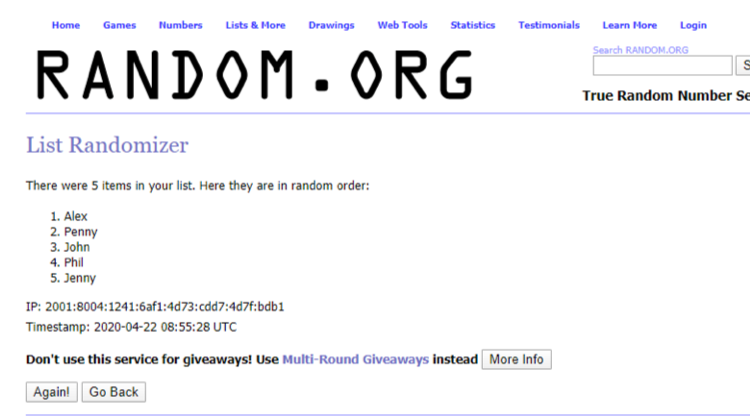 The second tool is a function of Microsoft Teams, by which we call on meeting participants to 'ping together' in the chat function. When the host of the meeting calls for it, the first person to ping the group chat is the first person to speak. The order to speakers is then determined by the order in which the pings appear in the chat. 
Both of these tools are easy, fun, and a great way to get all participants engaged and involved from the outset of the meeting.
Turned one-on-one meetings into open forums that anyone interested can attend
By working remotely, we were losing a lot of the knowledge sharing that came from what we call design meetings – which usually involves a demo or a tutorial on a new software feature. We realised that these meetings that would typically be an open forum in the office for anyone interested to attend – were becoming one-on-ones only between the expert and the person who initiated the meeting.
So, we encouraged our teams to make it an open invite on Microsoft Teams, and send a message out on Slack with the Teams invite, whenever they scheduled a design meeting, which involved a demo or a tutorial. This ensured the wider group gets to know it was happening, and the topic of discussion.
We've found that by doing this, we are recapturing a lot of the knowledge sharing that was happening organically back in the office.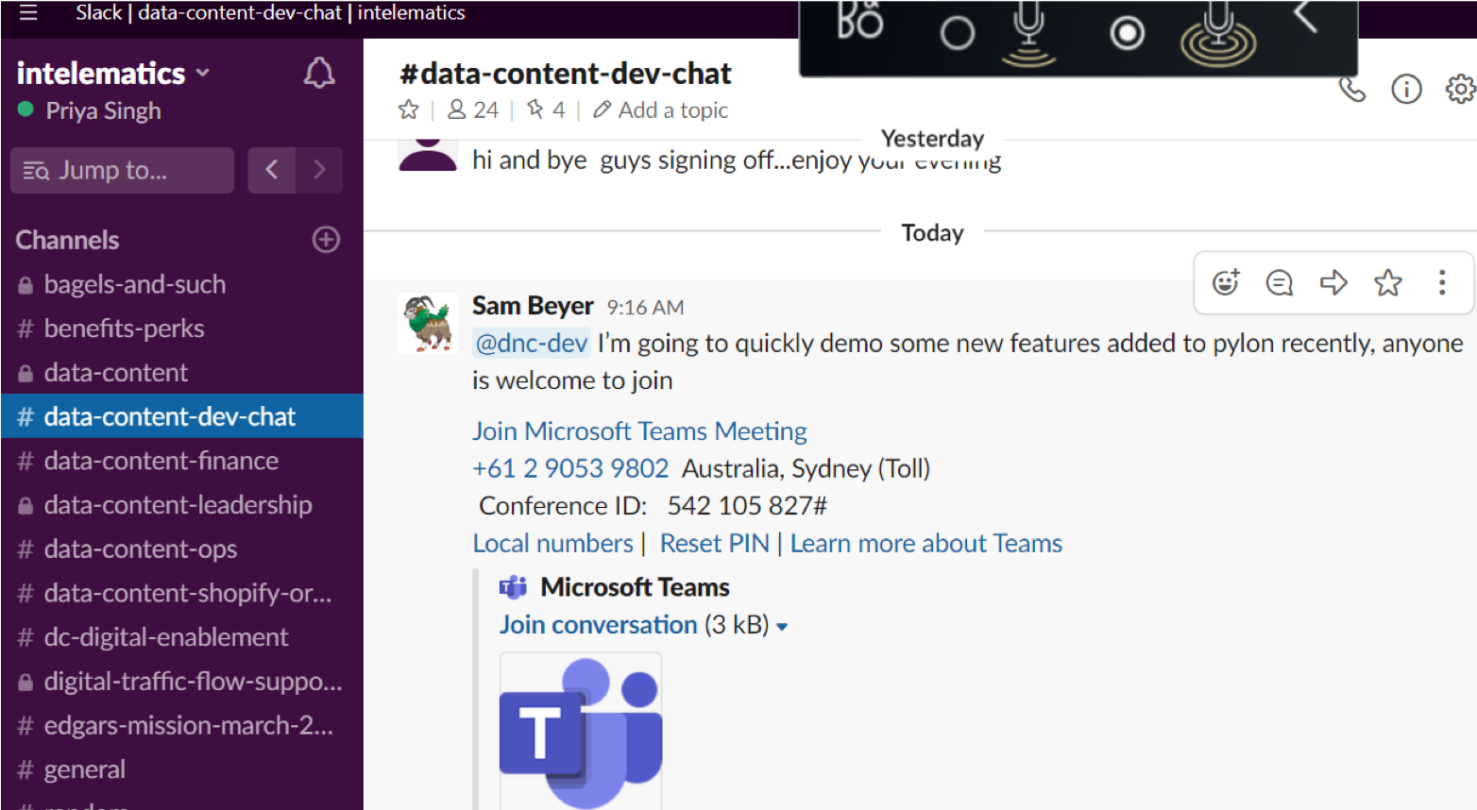 Set up a virtual office
One of the teams I work with is particularly collaborative, and they thrive in an environment where they can maintain regular engagement and continuously bounce off ideas. When we were working in the office, this was great – they could all sit close to each other, and share ideas all day long.
When we moved to working remotely – a lot of the early feedback, which came from this one team, in particular, was that they missed the dynamic energy of the office. To help combat this, we developed a virtual office in the form of an all-day meeting on Microsoft Teams. This means that the meeting is available to join all day – to create the same social environment of the office, from the comfort of any lounge room.
We didn't make participating in this meeting mandatory – as it works for some and not everyone. One of the key benefits we've found is that when someone has a question, they can put it to 'the room' and get an immediate answer – which combats a common pitfall of working remotely – delayed feedback.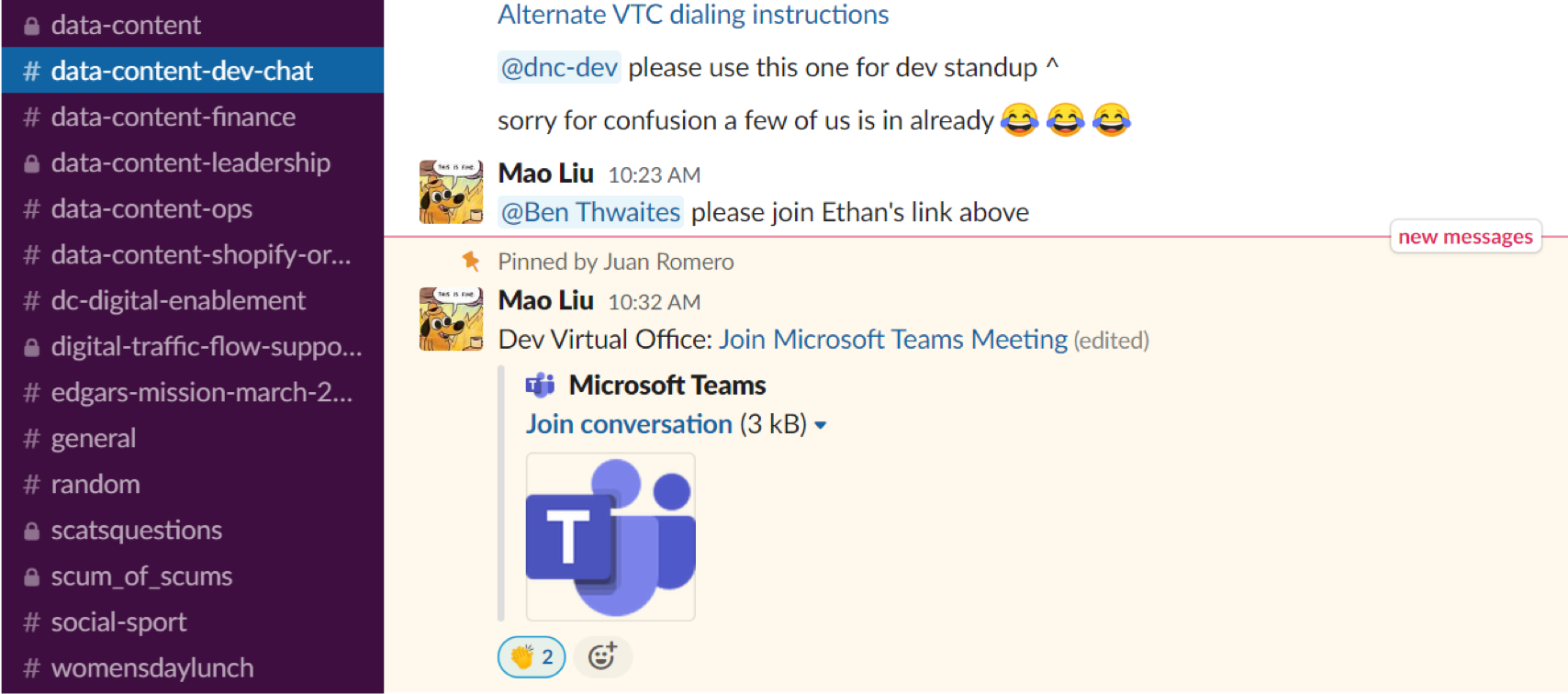 Introduced online pair programming
One of Intelematics' biggest strengths is that we have many programmers with varied expertise areas. For any programmer who works at Intelematics, there are endless opportunities to improve their skillsets and expand their knowledge, by working in close collaboration with colleagues who are an expert in a range of tools and interfaces. 
When working in an office environment, if a programmer wants to learn a new functionality – they could shadow someone more experienced in that particular functionality to gain exposure. In the early weeks of working remotely, this was not happening, and we quickly realised we needed to find a way to adapt this process to the online environment.
So, we introduced online pair programming. Pair programming is an agile software development technique in which two programmers work together at one work station. Usually, one person writes the code, while the other reviews each line of code as it's typed in – it's a great learning tool. To do this, we implemented a fantastic program called Visual Studio Code – a source-code editor developed by Microsoft for Windows, Linux and macOS – that has impressive pair programming capabilities. We've found it super easy to use, and it's like the Google Docs equivalent for writing code.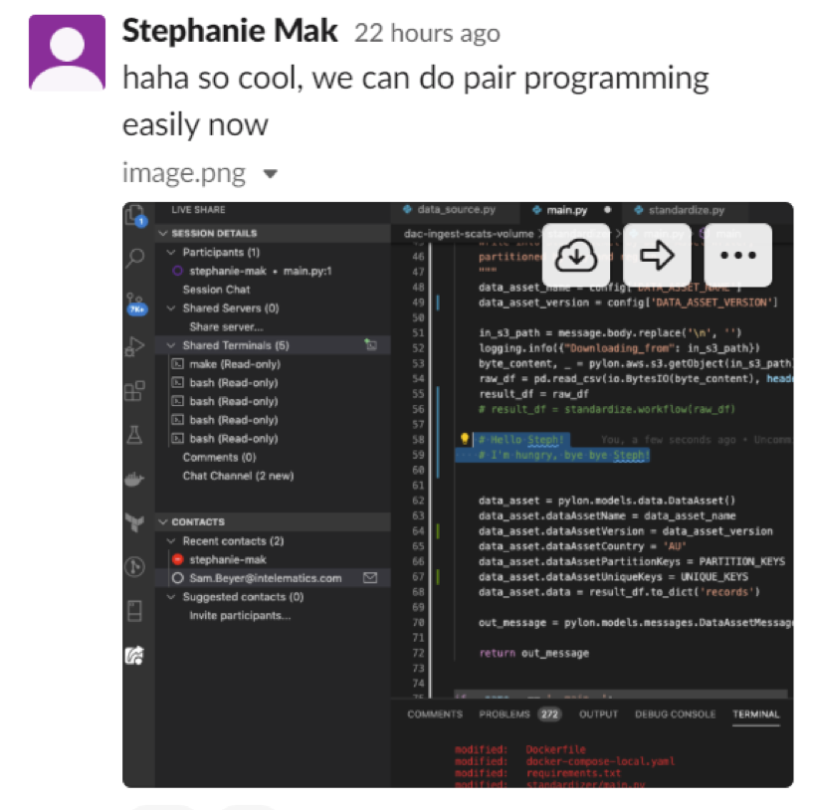 Introduced virtual brainstorming sessions
A big thing that many of us missed about being in the office was team-wide brainstorming. Of course, brainstorming is a valuable collaboration tool that helps teams to build on their best ideas to develop innovative solutions.
We knew from the outset of working remotely, that we needed to find a tool that would allow us to adapt regular brainstorming to the new online environment. We eventually landed on using the Microsoft Teams whiteboard function, which has proven an easy-to-use and worthy alternative to in-person brainstorming sessions.
It functions like any other brainstorm – participants contribute ideas while someone electronically scribes on the virtual whiteboard that all participants can see on their screens.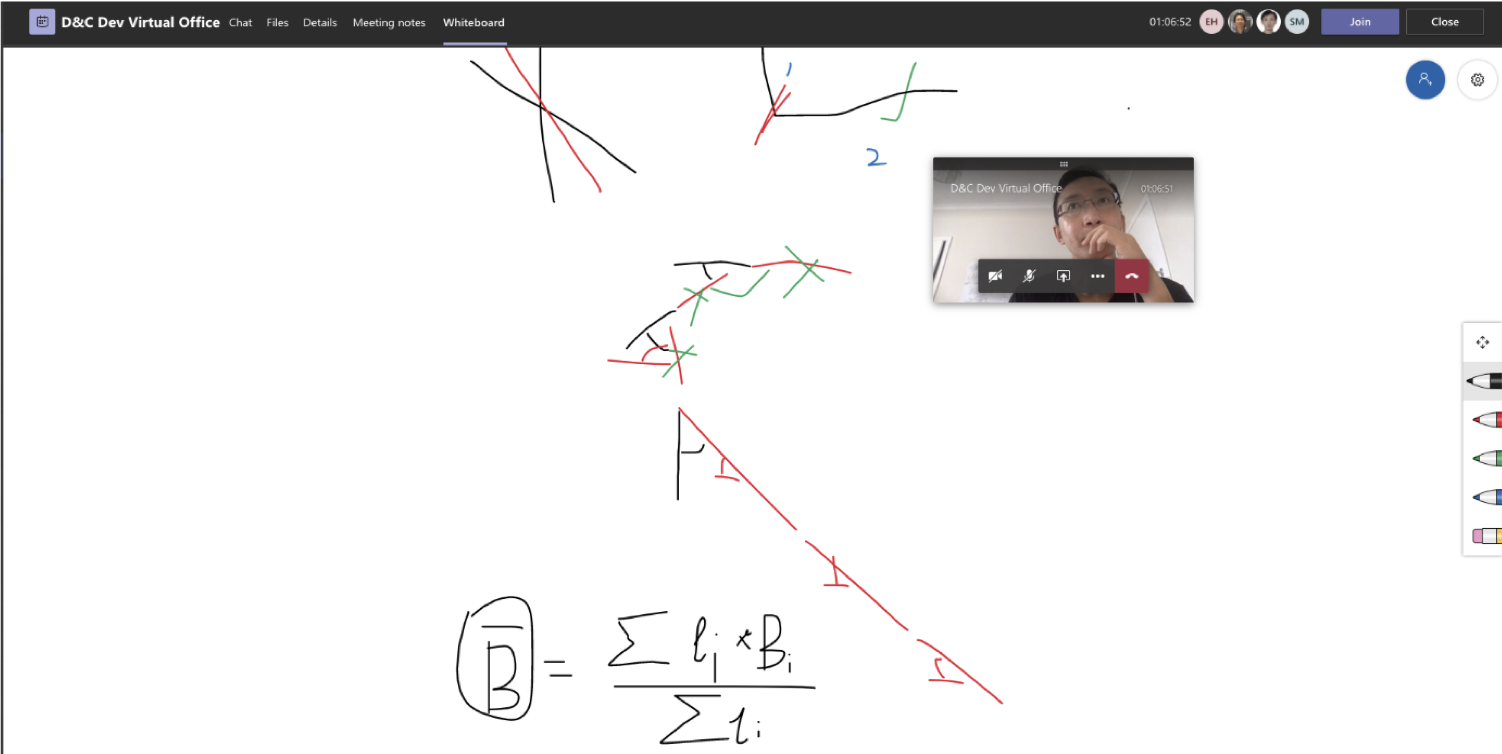 Reintroduced the lunch break
In the first two weeks of working remotely, we found that many people were working through the traditional lunch break hour we had established in the office. We even found that people were scheduling meetings for this time, and not taking breaks from their work while at home.
As a team, we felt it was important for people to be taking proper breaks – for both their mental health and for their productivity.
Also, many people at Intelematics are working parents with young children, who are now at home with them every day. We wanted to ensure our team members could undertake their parental duties while enjoying spending time with their kids.
So, we sought buy-in from senior management to establish a company-wide policy that no meetings could be set between 12 and 1:30 pm. We even went so far as to block out that time in everyone's calendar, and replace it with a daily virtual lunch catch up on Microsoft Teams.
This encouraged everyone to take a proper lunch break. They had the choice to join the virtual catch up, which is just a time to socialise, catch up and not talk about work. We've found this has been quite popular, especially among our people that live alone.
It also gives working parents the opportunity to feed their kids, help them with their schooling or just take their children out for a walk to get some exercise. It's important to us that everyone who works at Intelematics feels supported during this time.
Since implementing these six new measures for our teams while we work remotely, we have achieved some significant milestones that we perhaps wouldn't have otherwise been able to if we continued as we were. These include:
Successful product 'go-live' deployments
A more continuous flow of work
A more constant flow of information
A greater level of interaction, which has reduced feelings of isolation
So there you have it – we've implemented these measures and have seen early signs of success. We will continue to think about what we can do better, and continue to scope the online tools available to us that can maintain strong engagement and continue to foster collaboration. We strongly encourage that you do the same – it doesn't have to be complicated; the key is to find solutions that work best for you and your teams.